Kanboard is a free and open source Kanban project management software. A web-based solution that provides project management through drag-and-drop interface, automation, tagging, scheduling and more.
Key features:
Visualize your work
Limit your work in progress to focus on your goal
Drag and drop tasks to manage your project
Self-hosted
Super simple installation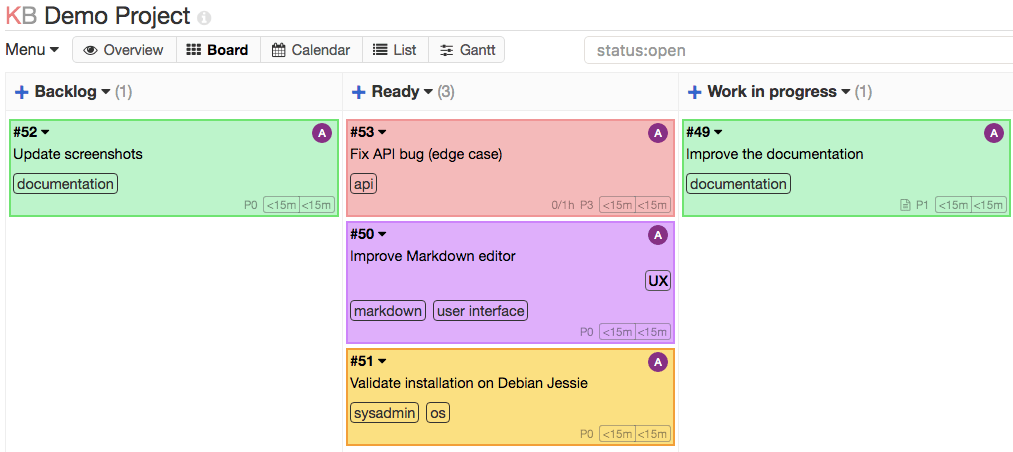 Kanboard is a web application that implements the Kanban methodology. The concept behind Kanban is pretty simple:
Visualize your workflow
Limit your work in progress
The goal is to work efficiently. You have a clear overview of your project with the board, where each column represents a step in your workflow. The task limit avoids working on too many tasks in the same time and allows keeping you focused to get the job done. The Kanban methodology has fewer constraints than other Agile project management approaches like Scrum. It is more flexible and focuses only on the essentials.
With the board view, you can:
Drag and drop tasks between columns easily. Switch between your boards in one click.
Customize the columns according to your workflow.
Limit your work in progress to be more efficient.
Create and edit tasks quickly.
Filter the tasks by category, assignee or due date.
Kanboard is available as a self hosted solution to any of Pronto Design hosting plans.